3DWinBrick 2001 - v4.08

---
---
This is the latest version of 3DWinBrick 2001!
This game has an explosive number of possibilities which will draw all of your skills! There are thousands (3DWinBrick2001 & WinBrick2000 & WinBrick96) of different levels with compressed action. You are able to manage this challange alone or with (or against) your friends! One to four players are possible. 256 simultaniously displayed objects will produce a high-speed arcade game, which you have never seen on any system yet.

With this 3D version of WinBrick, you have a full real time rendered 3D scene of the playfield with all objects. Lots of graphical effects make the game real fun to play. You can rotate around the playfield to see behind big bricks, and you are always playing from the bottom, because game turns itself according to your position.

There are more than 60 different extras (including water, rockets, bombs, extra balls, amplified fire, etc.) in different flavours. Many of these extras are also interacting with each other, which gives you the possibility to get many points. You are also able to buy additional add ons in a level shop. Statistics and multipler profiles make it possible to compete against your family / friends.

As in windows, you are able to create you personal theme (for games), which can contain your own pictures, bricks or even sounds (sounds and self created bricks is for advanced users only). The level editor is a real creative utility, which allows you to generate levels on very different possibilities - even creating a level from bitmaps, jpegs or icons!

A special network hiscore list will be created to hold a real HiScore list among several systems.

If you have, you can use 3D glasses (e.g. 3D Relevator from Elsa or specific graphic boards from Asus).

If playing against other players, you may use two mice, four joysticks (also force feedback), per keyboard, per network/internet and all different combinations!
Wooow, thats a *real* action game!
Shareware:
The shareware is not timelimited and fully playable. There are 8 training levels, 5 3DWinBrick2001 levels and 5 WinBrick96 levels for one player usage included. Furthermore are several multi player levels (for 2 / 3 / 4 player usage) included. The level generator can not save created levels, but it can be fully tested.
When upgrading from WinBrick96 full version:
3DWinBrick2001 is not a free update for WinBrick96 or WinBrick2000. It is an independent new game.
If you are a registered WinBrick96 user, you are getting the WinBrick96 level importer free. This importer is able to load all WinBrick96 sceneries in 3DWinBrick2001 as under WinBrick96 - only much better. Furthermore it allows to import the WinBrick96 levels within the level editor.
When upgrading from WinBrick2000 full version:
You will get the level importer for WinBrick96 and / or the level editor free, if you have already registered that specific feature for WinBrick2000!
Here is a rough list of features in the game:
1 to 4 players.
The full version contains more than 60 one player levels, and 30+ two / three / four player levels. There are furthermore 60 WinBrick96 levels (1/2/3/4 player levels) included.
8 special trainings levels to demonstrate and teach special features and bonis of the game.
A demo mode which can be interrupted any time. Paused games can be resumed after the demo.
Uses Direct3D to draw the game (3D hardware accelerator required).
The game is adapting itself to the speed of your system with an internal benchmark test.
Gamma control available and configurable while game is running
Each level can contain 40x30 or 40x40 base elements (bricks).
34 different bricks, which may ...

grouped to bigger structures.
drawn transparent.
have 8 different brick representations.
have 8 different degrees of hit resistance.

Flags to jump within or across levels
6 internal themes for brick / background representation of the game + the possibility to generate your own themes.
A level shop with 29 different items to buy.
4 internal different strength computer opponent players.
Creation of player profiles (each one has it's own statistics and saved games). The graphical representation , which can also be created from external bitmaps and jpegs, can be used to send network comments to other players.
A history / statistic of the game usage.
60 different extras / object types / shop add ons.
Network (and even internet) playing possibilities + a network HiScore list, which can be automatically combined from all players in a game.
A variable resolution from 640x480 to 1024x768 + full screen playing.
Several internal scalers and other image enhancing algorythms, as well as computer calculated game backgrounds.
Up to 16 direct sound channels with 60 different sounds.
A level generator (which has to be registered seperatly) allows you to...

.. create levels from icons, bitmaps and jpegs.
.. create levels with specific backgrounds, player configurations and bricks.
.. set extras on explicit and / or random positions.
.. set up to 7 flags to specific positions.
.. import levels from other levels (even from WinBrick96 see "When updating ...").
.. create password protected levels.
.. use tools like fill, block mark, copy & move & shift & rotate blocks / everything.
.. to test levels manually or automatically.
.. to assign level jump passwords.
.. create levels with different combinations of 1/2/3/4 players.
.. manipulate all brick properties.
.. use as many WinBrick2000/3DWinBrick2001 sceneries as you want.
.. use shading to make levels look more 3D!

The game can be controlled by ..

.. two mices (second mouse conntected to Com1 .. Com4, can even use middle mouse button and wheel (turn play field)).
.. four Joysticks (the third achsis can be used to rotate the playfield).
.. force feedback Joysticks.
.. self definable keyboard keys.
.. 4 different strength computer players.
.. with DirectPlay over network or even internet

A context sensitive help and bubble help.
A boss key.
| | |
| --- | --- |
| One player mode with a few objects... | Three player mode with a little bit more action.. |
| Or action with water and many objects.. | The level shop allows you to buy special items.. |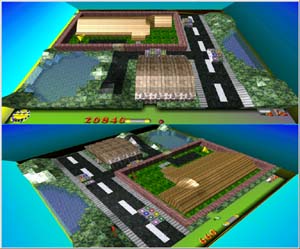 Or with split screen with 2+ players!!