WinJack - v1.64

---
---
This is the latest version of WinJack!
The card game WinJack contains solitaire, parlor and casino games, which can be played alone, against the computer, or within a network / internet against human opponents (it's also possible to mix humans with computer players). Up to 6 players are able to play against each other. The individual resizable window lets the user resize the game on the fly. The graphics can be choosed out of different card sets and desktop themes. It is also possible to add your own designs! Up to 512 simultanious flying cards and jetons are providing life to the game.

Statistics and HiScore lists are generated automatically - of course. Each user can define his own player, which can have user defined images and a name. The player profile can be used to send special messages (with a specified image) over the network, while the game is running.

Cheating is possible - but beware, if somebody finds it out, it can cost much money. When playing poker and getting bankrupt, you can ask for money from the other players. Furthermore you can send comments to a specified person within the game - the others will see only incomplete sentences..

Beside the normal game modes, you have also the 'casino mode'. In this mode, you are able to collect virtual money with your player. This virtual account is stored whithin your player profile, and you'll get it the next time in the casino as start money. The different games and computer players will change their behaviour if you earn more and more points.

The add on package 'Poker-Pack' is an extension to fullfill the missing games from 4Flush. When playing in the network, 4Flush games are able to play with WinJack games, if the games are available on all machines.
Shareware:
The shareware is not timelimited and nearly full testable.
MauMau, Crazy 8's, Solitaire and Butterfly can be played. BlackJack is only playable for one round, and not within the casino. the other games are included as self playing demo.
Here is a list of all features in the game:
The games:

Classical multiplayer games (Doppelkopf, Bauernskat, MauMau, Crazy 8's (Crazy Jacks, Swedish Rummy))
11 classical (slightly for multiplayer modified) solitaire games (Solitaire, Butterfly, Tut's Tomb, Tri Peaks, 8 Stacks, Icebreaker, Pyramid, Golf, 5x5, Square, 13)
Casino games ("Casino", Blackjack, Poker (within the additional 'Poker-Pack'))
A Casino... Here you can collect your 'virtual dollars' (not real money!!). Each player has his own account, which is stored on the Computer (you can also use this 'virtual account' in network games). Some games are changing in behaviour when you have more 'virtual dollars'...

The most games have a lot of special rules, which can help you to modify the rules to YOUR desired gameplay.
Each game has its own HiScore list with up to 50 entries.
Each game stores a statistic.
The game can be easily extended with new games. Do you have favourites?

Multiplayer Features

Up to 6 players for each game possible (except: Doppelkopf - only 4 players, Bauernskat only 2 players, Solitaire games and BlackJack up to 4 players)
Local players can play with: 2 mice, 2 joysticks, a keyboard
Several local players can be combined on several network computers. DirectX5 lets you also play over the internet!
The computerplayer exists in 4 different flavours:

Abacus - easy player
Calculator - ..
Computer - ..
HAL - best player

Each player can donnate some comments while the game is running. This comments are based on a special kind of 'bubble window' with a five different graphical representations of the player. This pictures can be self defined..

The Graphical representation of the games:

2D and !!!3D!!! (3D only with an accelerator and not ready yet)
The game can be played fullscreen or in a window. The window can be scaled freely between 640x480 to 1280x1024.
You can design your own cards and your own desks.
10 internal cardsets are included - old and new cards to get the perfect realism...
Mega good graphics, animations + jetons
Up to 512 simultaniuous flying objects possible
To improve the 2D and 3D graphics, a special scaler and a special 'Blit - machine' is included in WinJack
The Action is back! Try it: Download it, start it and press than F5 to see 1 to 4 demoplayers simultaniously playing...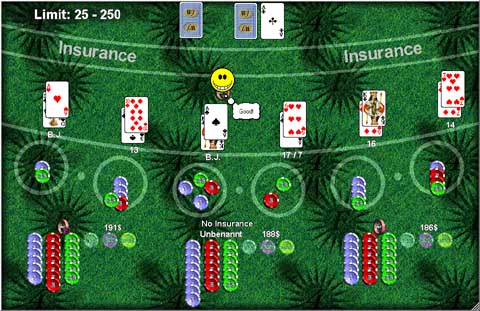 BlackJack three players against bank - The rules are chooseable: Las Vegas, Trasure Island, Atlantic City, German casinos or self defined rules. You decide!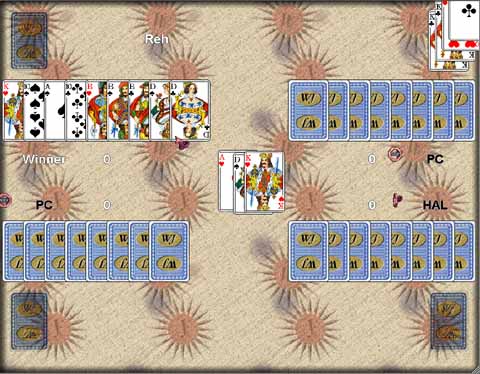 Doppelkopf - the german classic - there are also a lot of different rules, which can be set individually.

Solitaire - 2 Players - Be fast: put the cards from you and your opponent onto the Ace stacks!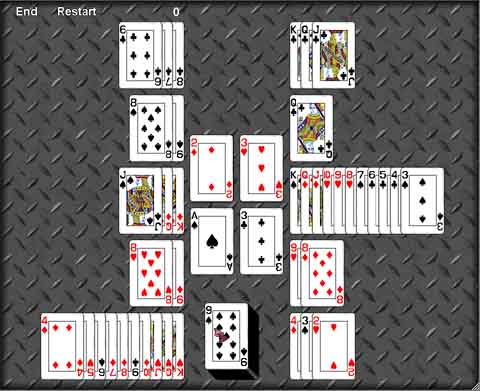 Icebreaker another included solitaire game, which can be played with up to four people.