PokerPack - v1.63.50

---
| | |
| --- | --- |
| Install (4Flush) | The PokerPack is an extension of WinJack, and only able to run with the full version. Therefore, you have to download 4Flush to test the poker game. |
| Register Poker pack | Register this program |
| History | The history of all Poker-Pack versions since version 1.51 |
| Troubleshooting | What to do, if the program does not want to run correctly... |
| Support | For all registered users. |
---
This is the first extension for WinJack
The PokerPack contains a poker game, which should the needs of everyone. You are able to play with up to six players (computer players or network opponents) to earn virtual '$'s. The limit is calculated at the beginning of the game, and depends on the lowest budget player.

There are overall 31 different games included (e.g.. DrawPoker, 5Card Stud, Lamebrain Pete, Cincinatti, Criss Cross, ...). Beside this different games are also different game dependent optional rules available like Dog's and Tiger's. Additionally it is possible to control the number and kind of jokers :

No Joker
One real joker
deuces as jokers
deuces as bugs

To keep the game interesting, it is possible to let the dealer choose the game prior to the card distribution.

The four computer players have different bahaviours. One of them is for example talking a little bit too much, and another one is very good in bluffing. If you cheat too much, the computer will adapt his gameplay to this - and perhaps some other players will join him according to his behaviour. If running out of money, it is possible to loan something from the other players. But beware: you have to pay 2:1 back (covering the risk of no pay back guarantee...). The comments together with the poker-face of the pictures make the game looking alive.
Shareware:
This add on package is not available as shareware, because the full version of WinJack is neccessary. But you are able to test the game with the shareware version of 4Flush.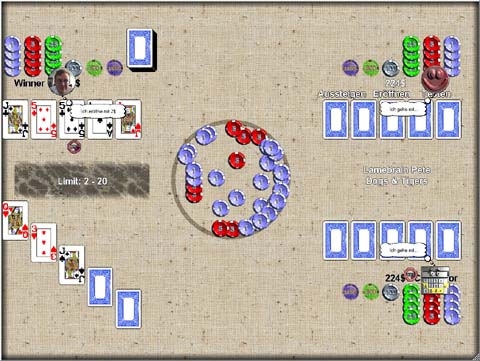 Poker - 31 different games and a lot of special rules for each game can be played with up to 6 players!