WinJack-Pack - v1.64

---
| | |
| --- | --- |
| Install: 32 Bit Version | The WinJack-Pack is an extension of 4Flush, and only able to run with the full version. Therefore, you have to download WinJack to test the poker game. |
| Register WinJackPack | Register this program |
| History | The history of all WinJack-Pack versions since version 1.51 |
| Troubleshooting | What to do, if the program does not want to run correctly... |
| Support | For all registered users. |
| Awards | - The game has just released - |
---
This is the first extension of 4Flush!
This extension of 4Flush contains all additional WinJack games and adds them to the game. Within this package are 11 solitaire games (with lots of special rules and multiplayer functionality) and two parlor games (Doppelkopf and Bauernskat).

All solitaire games can be played with 1..4 players, Doppelkopf with 4 players and Bauernskat with two. All games are also available in the Casino (and can be played as quest for virtual '$'s) and can be played against different computer opponents. When played on only one local machine, it is possible to use the keyboard, two mices, and two joysticks.

All other possibilities of 4Flush (HiScore lists, statistics, history, player profiles, graphical design, resizable windows, etc.) are of course included.
Shareware:
This add on package is not available as shareware, because the full version of 4Flush is neccessary. But you are able to test the game with the shareware version of WinJack.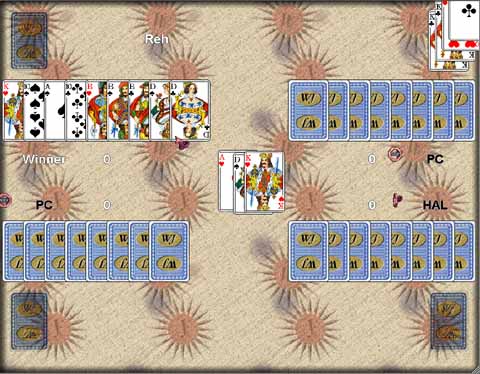 Doppelkopf - the german classic - there are also a lot of different rules, which can be set individually.

Solitaire - 2 Players - Be fast: put the cards from you and your opponent onto the Ace stacks!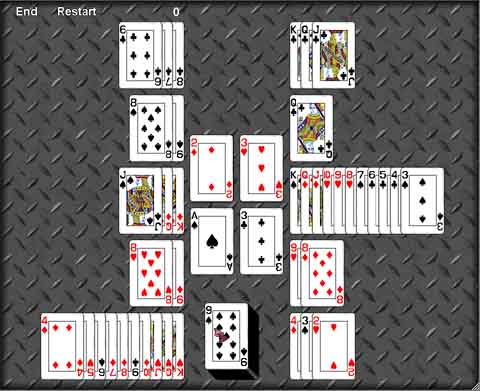 Icebreaker another included solitaire game, which can be played with up to four people.